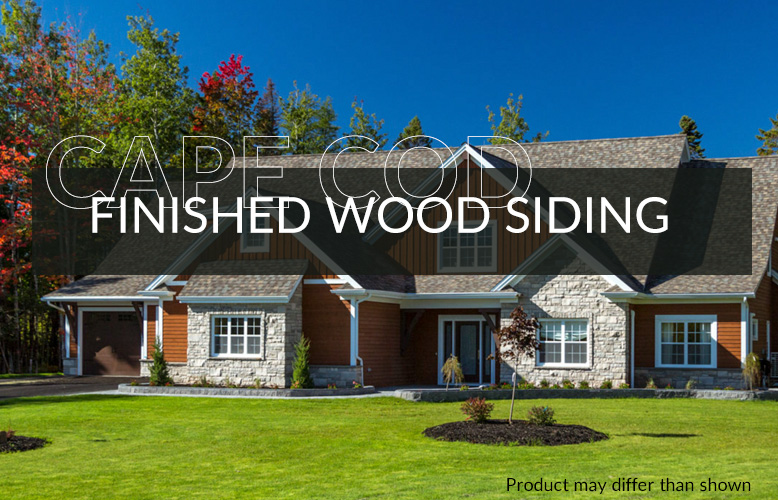 CAPE COD WOOD SIDING<
CAPE COD WOOD SIDING<
Cape Cod Siding lets you enjoy the benefits of natural wood with a low maintenance finish. It adds prestige and value to your home.
Wood Siding Engineered by Nature: Enjoy the traditional esthetics of real wood siding combined with durability and strength. Nothing influences the impression your home makes more than its exterior finish and natural wood siding is the preferred choice.
Your Home is your Canvas: An important artistic medium for centuries, wood is beautiful and versatile. Cape Cod Siding offers a wide range of siding options to complement your home's design, reflecting your lifestyle and taste. From traditional horizontal bevel, to vertical board and batten or a sleek contemporary channel, Cape Cod Siding gives you artistic rein with siding and trim profiles that will add distinctive architectural detail to your home.
Our Colours will Inspire You: From traditional favorites that stand the test of time, to today's current trends, our colour experts will do the hard work for you. All you need to do is choose!
Low Maintenance Siding: In manufacturing low maintenance siding we start with the best. Cape Cod Siding is produced from hand selected Canadian Lodgepole Pine. Only our best wood is slowly and carefully kiln dried to achieve the low moisture content required to create strong, stable siding.
Advanced Technology: Using state-of-the-art technology, our skilled woodworkers saw each board with the same care as craftsmen of yesteryear. The result is a high quality, traditional looking textured surface that makes Cape Cod Siding truly distinctive.
Long Term Protection: Cape Cod Wood Siding is sealed on all sides applying the finest finish available; PPG Machine Applied Coatings, which is a 100% acrylic, breathable water-based paint. This top-quality finish is applied under strictly controlled factory conditions ensuring that the required thickness is applied over the entire surface of the siding. This system produces a uniform finish and maximum protection that cannot be achieved with field applied paint.


Join our Build-It-Better™ mailing list for updates
By clicking "REGISTER" you consent to receive emails from us. Privacy Policy.
Join our Build-It-Better™ mailing list for updates
By clicking "REGISTER" you consent to receive emails from us.
Privacy Policy.