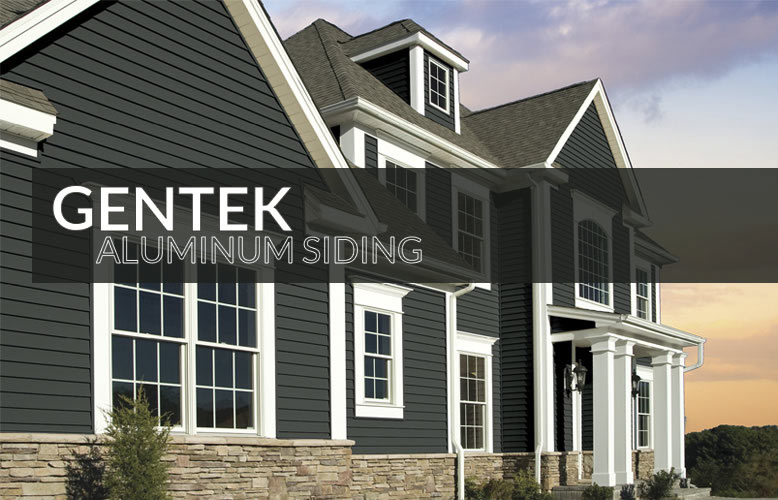 GENTEK ALUMINUM SIDING
With Gentek aluminum siding, homes have the classic good looks of hand-cut wood and the exceptional durability of high-performance aluminum.  Warm and luxurious colours in a variety of profiles let you create a home exterior that's beautiful yet strong.
Woodgrain 2000 Aluminum Siding: Warm and welcoming, Woodgrain 2000 combines the traditional beauty of hand-cut wood siding with the high-performance properties of aluminum. Luxurious colours embellished with an intricate woodgrain texture will lend casual style and sophistication to any home.
Cedarwood Aluminum: Faithful to the distinctive beauty of genuine cedar, Cedarwood presents a natural-looking wood finish in a strong and durable aluminum construction. The intertwining warm hues and handsome woodgrain texture of this upscale siding will lend the perfect measure of elegance to your home.
Deluxe Aluminum Siding: Deluxe siding features a tough aluminum core expertly coated with a resilient LoMar polyester finish. Combined, these elements help the siding to stand up strong against all types of weather, including harsh exposure to heat, cold, rain and snow. Deluxe's classic colours and smooth texture are certain to please for generations to come.


Join our Build-It-Better™ mailing list for updates
By clicking "REGISTER" you consent to receive emails from us. Privacy Policy.
Join our Build-It-Better™ mailing list for updates
By clicking "REGISTER" you consent to receive emails from us.
Privacy Policy.